Sai and I recently had the opportunity to accompany our long-time friends Tom and Sheri Muma on a vision-casting trip to the country of Chad.   Our mission was to
gather information about existing church-planting efforts, and try to identify a possible "man of peace" in Chad whom Tom's organization, e3 Partners, can come alongside and support through training and equipping for rapid multiplication of churches (see "Church Planting Movements").  Tom had asked Sai and me to accompany him and Sheri so that we could be additional eyes and ears.
I had not anticipated before departing for Chad that God would use this trip to accomplish so many different purposes.  It soon became apparent that He would not only give Tom direction for his Chad ministry, but would also give Sai and me instruction and encouragement for our planned Thailand adventure.  We are still processing all we saw and heard on our Chad trip, but here is a partial list of things that God impressed on us as being applicable in some fashion in Thailand:
Prayer for the people in Thailand is critical!  We must not delay in forming a team of people who will commit to praying for the Holy Spirit to prepare the hearts of the Thai people in advance of our sharing the gospel with them (see "

Pray

").
I had planned to be financially self-sufficient, but God used some missionaries we met in Chad to strongly urge me to have at least some financial partners–to share the blessing of obedience and service to God, and for accountability.  It also makes the work that of the church rather than being just our work.
A simple Bible study methodology that is readily usable by just about anyone is important for empowering churches to plant churches.  There is a place for formally trained teachers and theologians, but they are not essential for a small group of believers to meet together regularly for worship, study of God's Word, and mutual encouragement.  By employing a simple Bible study methodology, the believers are soon confident enough to share what they know with their relatives, neighbors, co-workers, etc., and give birth to new believers who can form their own small groups.  This is church planting in its purest form.
For longevity in ministry, it is imperative that I operate primarily out of my spiritual gift(s).  Too much work in areas outside of one's spiritual gift(s) leads to weariness and burn-out.  But working within one's spiritual gift(s) is energizing rather than draining.  Therefore, it will be essential for me to identify, among the new believers in Thailand, those who have leadership qualities in areas that I am not gifted in.  For example, I am not gifted for preaching.  I hope to identify a Thai brother who has more gifting for preaching.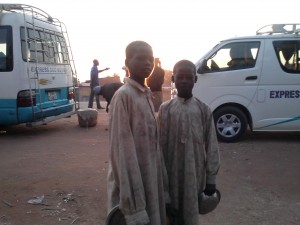 Thank you, gracious Father, for showing us so many things in Chad!  You truly are an amazing God, able to use any circumstance to bring about your purposes!   We worship You!